We work to keep Arizonans healthy and safe, and provide the expert medical knowledge they need when they have a poison emergency.
We provide health care
Our pharmacists answer questions on poison and drug exposures and information.
Our physicians are experts in toxicology and consult with other physicians and health professionals about your emergency.
Our genetic counselors answer your questions about medicines and chemicals during pregnancy or while you are breastfeeding
We educate others
Our health educator provides public outreach to the community and to healthcare professionals.
We also are a toxicology teaching site for pharmacy and medical students and residents.
We are the site for southern Arizona's only Medical Toxicology Fellowship, where doctors and pharmacists receive additional specialty training.
We conduct medical research
As a team and with other organizations, we do research in toxicology and new drug development.
We  study the side effects of medication and test new therapies.
We save lives
Our poison center saves lives and saves money. We provide immediate life-saving information and medical expertise for medication errors, chemical spills, product misuse, occupational exposures, suicide attempts, pet poisonings and other urgent situations.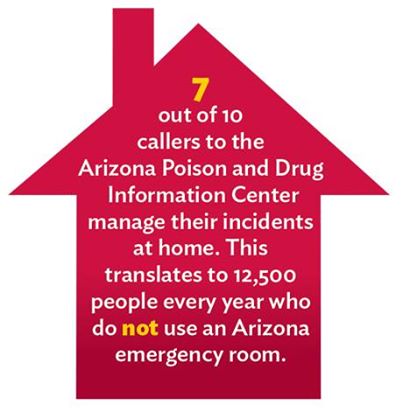 We reduce costs
And our work reduces your healthcare costs, too! Seven out of 10 poison center callers are treated safely at home. That means approximately 12,500 people every year who do not use an Arizona emergency room, where costs are high.
Poison centers are a valuable public health service that is free to users. The national poison center network is judged to be the second most effective public health program in America, bested only by vaccination programs in terms of results achieved per public dollar invested!