Though the Arizona Poison and Drug Information Center provides a valuable public service with a proven return on investment*, financial support for its operations is not stable. You can help keep the center operating.
The Basic Facts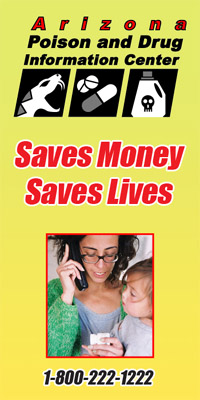 The Arizona Poison and Drug Information Center has operated as a public health service since the1950s. The center was formally established by the state of Arizona in 1980 (see History) and has received the bulk of its funding through the Arizona Department of Health Services since then. Additional funding has come from the federal government and private contracts.
In 2008, the state decreased its funding to the poison center by 50 percent, leaving only enough to fund 30 percent of our center's operations. The University of Arizona College of Pharmacy has taken on the remaining expenses, working hard to secure an emergency bridge to better times.
In  2011 and 2012, the federal government decreased funding to the 57 poison centers in the country by 25 percent each year. This was considered a victory by poison centers because the original proposal was for a 97 percent cut in funding.
Currently, the Arizona Poison and Drug Information Center operates with 30 percent of necessary funding coming from the state, 10 percent from the federal government, 10 percent from private contracts and the remainder from the College of Pharmacy. We have been successful in acquiring temporary funds through collaborations with the Arizona State Board of Pharmacy, the UA College of Medicine in Phoenix and the Arizona Department of Health Services.
When Funding Goes Away
The future for the Arizona Poison and Drug Information Center is uncertain as government funding remains insufficient to the task of operating a 24/7 service. As was demonstrated in Louisiana and Michigan when poison centers closed, loss of a public hotline with toxicology expertise results in increased (and costly) emergency room and doctor office visits.
What You Can Do Now
You can support the Arizona Poison and Drug Center through a monetary gift. Here's a link if you wish to give online.
If a poison center has helped you or your family, share your story with us with an email. Real-life examples make a difference in our ability to persuade decision-makers to increase our funding.
You can learn how to advocate for continued federal funding by going to the website of America's Poison Centers. 
Share your support for the work of the center with state decisionmakers.
Continue to explore our website to learn more about our services
We thank you for your support and ask for your continued help to ensure our survival!
*For more information, see Why Poison Centers Matter