5 WAYS TO PREVENT AND PREPARE FOR THE CORONAVIRUS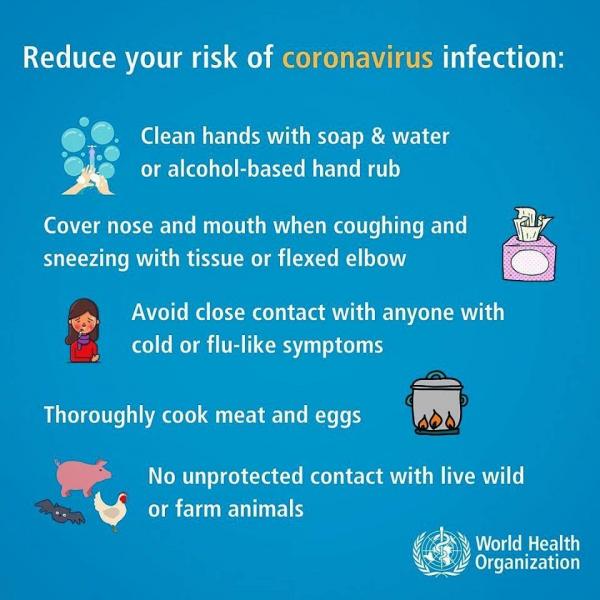 Full story link: https://www.npr.org/2020/02/27/810016611/coronavirus-101-what-you-need-to-know-to-prepare-and-prevent
1. Compared to prior outbreaks of novel viruses, this coronavirus appears less deadly than other human coronaviruses that have spread in recent years. Symptoms include low-grade fever and a cough. Some people also experience fatigue, headaches and, less frequently, diarrhea. 
2. Follow flu prevention tips to prevent coronavirus contact. Wash your hands frequently, with soap and water, for at least 20 seconds. Wash your hands after going to the bathroom, before eating, and after coughing or sneezing. Avoid close contact with people who are sick, stay home when you are sick, and clean and disinfect frequently touched objects and surfaces. 
3. Don't panic! Don't hoard, but do stock your cupboards with some extra food and cleaning supplies. Check the medicine cabinet to ensure you have basic medications, have an extra supply of prescription medication on hand, and ask your employer about work-from-home options.
4. There is no conclusive evidence that wearing a face mask can help prevent being infected by coronavirus. 
5. Be smart about travel. The CDC advises that older adults and those with chornic medical conditions should consider postponing nonessential travel. 
6. Save the Poison Help number (1-800-222-1222) in your cellphone! Call the Arizona Poison and Drug Information Center for general questions and the most up-to-date information regarding coronavirus.