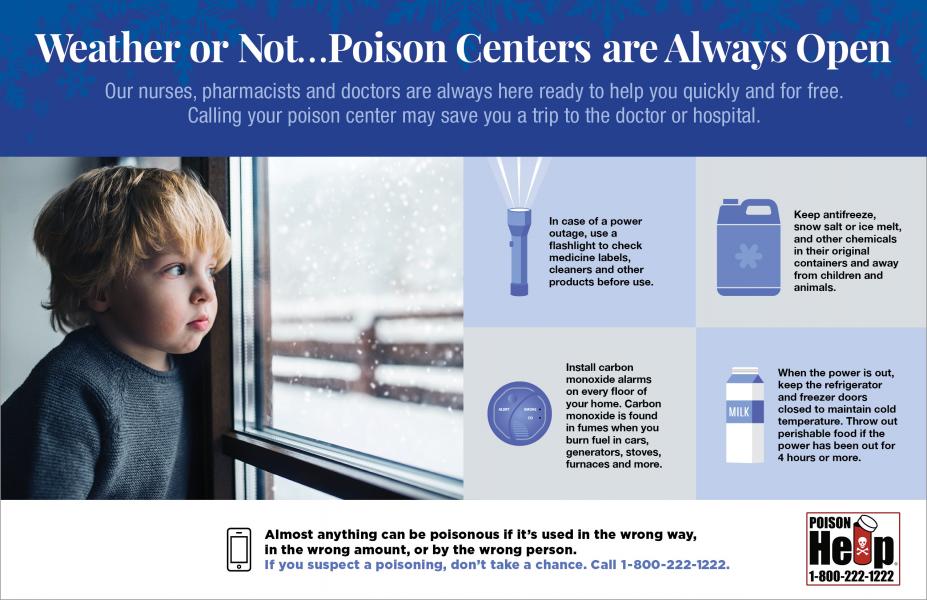 The holiday months are some the busiest times of the year! Approximately 90% of poison exposures during the months of November and December are unintentional. The Arizona Poison and Drug Information Center encourages you and your guests to follow these tips in order to ensure a safe winter holiday.
Travel
The holidays are all about traveling to visit friends and family or welcoming guests into your own home. Be prepared to travel and avoid accidental poisonings by keeping medicines up, away and out of sight and reach of young children. Provide guests with a safe place to store their purses and suitcases to prevent curious children or pets from accidentally ingesting something harmful.       
Christmas Trees
Some Christmas trees contain toxic oils that could cause harmful reactions if consumed in large amounts.  Keep live trees away from heat sources as they are highly flammable and could cause a fire in the home. Watch out for curious pets that may try to eat parts of the tree or drink from its water source.
Plants
Plants make festive decorations during the holidays, especially the traditional mistletoe placed above the door. Mistletoes can actually be quite dangerous if parts of the plant are ingested. The berries that grow from it are particularly dangerous and could cause stomach pain, vomiting, diarrhea, and other undesirable effects. Keep a watchful eye on children and pets around potentially harmful plants. Other toxic holiday plants you should avoid bringing into your home this holiday season include: 
·         Holly  
·         Chrysanthemum
·         Christmas berry
·         Jerusalem Cherry 
·         Azalea
·         Boxberry 
Ornaments 
Children may mistake a small, shiny ornament for a toy if they are left out in easy-to-reach areas. Many ornaments are covered with lead-based paint which could be dangerous if ingested. If a child or pet swallows a piece of an ornament, it could cause choking and/or blockage in the intestines. Do not leave ornaments on the ground and place them up high when decorating the tree. 
Gifts 
Gift giving is a major part of the holidays. Many gifts contain small button batteries which could easily be swallowed by children. This could cause a blockage in the esophagus, leading to even more severe outcomes. Do not leave batteries sitting out and make sure all battery compartments are secured shut. 
Food 
Spread holiday cheer, not foodborne illness. Wash your hands, cutting boards, utensils, and countertops before preparing a meal and use a thermometer to make sure the food is cooked thoroughly. Discard any leftovers that have been left out for more than two hours. If you decide to feed your pet food scraps, make sure the meat is boneless and cooked thoroughly and stay away from harmful foods that could cause indigestion.  
The Arizona Poison and Drug Information Center wishes you and your family a safe and happy holiday season! We are open 24/7 for any holiday accidents at 1-800-222-1222.