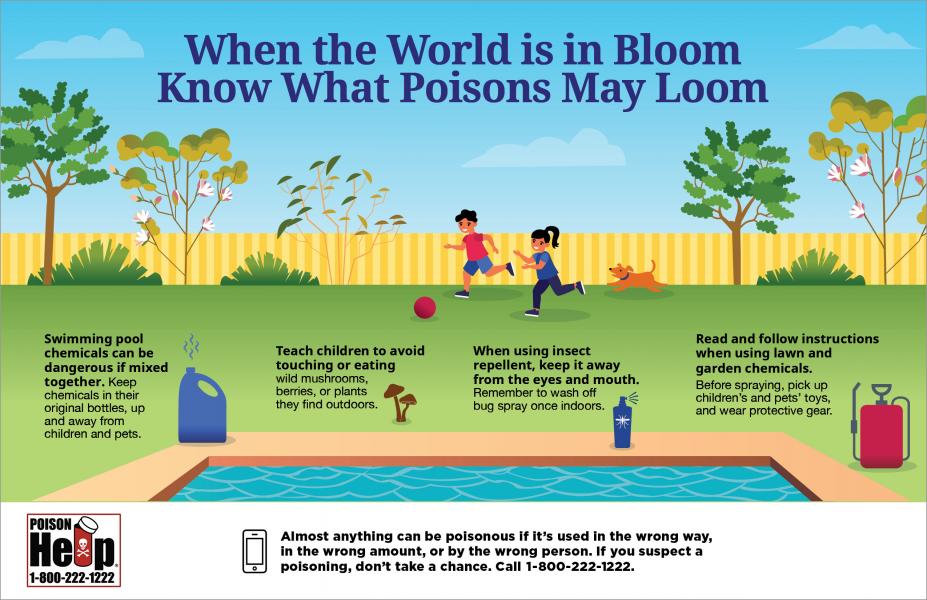 The Arizona Poison and Drug Information Center encourages you to follow these tips in order to ensure a safe spring.
Plants
There are many poisonous plants in Arizona that can be dangerous to touch or eat. Teach children to avoid touching or eating wild mushrooms, berries, or plants they find outdoors. Do not assume a plant is safe because birds or wildlife eat it!  
Household Cleaners
Household cleaners come in all sorts of different bottle shapes and colors, which can make them appealing to young children and pets. Store all household cleaners in a locked area, out of sight and reach of children and pets. When doing any form of "spring cleaning", remember to never combine products unless the label directs you to. Lastly, keep all products in their original container to avoid accidental mix-ups! 
Fertilizer, Herbicides, Insecticides
The warming weather means it is time to take back the yard from any unwanted weeds or pests that may be lurking, but the chemicals used in fertilizers, herbicides, and insecticides can be dangerous. Using pesticides safely depends on many things! Make sure kids, pets, and anyone non-essential to the application is out of the area before mixing and applying pesticides. Be sure to wear protective clothing, including a long sleeve shirt, long pants, and closed-toed shoes. Mix pesticides outdoors or in a well-ventilated area, and after using pesticides, wash your bands before eating. 
Easter Egg Dyes
One common Easter activity is painting eggs with dyes. In most cases, egg dyes are non-toxic and safe to use with children (if directions are followed). Adult supervision should take place whenever egg dyes are being used by children to avoid any accidents. If a child gets dye into their mouth or on their skin, give us a call at 1-800-222-1222!
Bites and Stings
Getting back out in nature after the cold winter months is the highlight for many people, but the warming weather also brings back Arizona's venomous creatures. Keep and eye out for rattlesnakes, scorpions, and spiders! Prevent bites and stings by leaving wildlife alone and keeping hands and feet out of tight spaces. Wear shoes when walking after dark and use lights at night. 
The Arizona Poison and Drug Information Center wishes you and your family a safe spring cleaning! We are open 24/7 for any accidents at 1-800-222-1222.