Have a Spooktacular Halloween!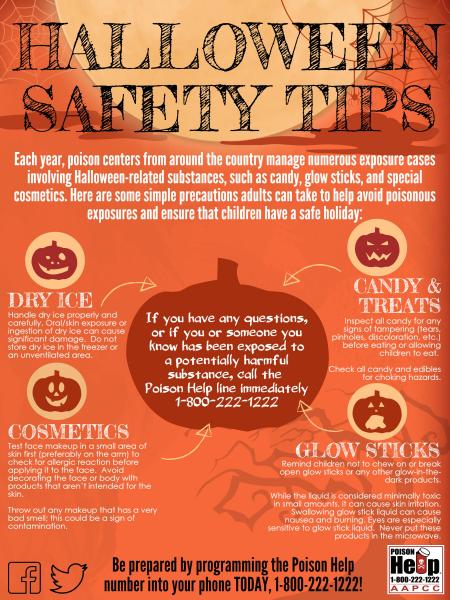 It's the season of trick or treat! Poison centers receive many Halloween-related calls this time of year, with glow sticks topping the list. Read below for more information about glow sticks, Halloween treats, and costume makeup. 
Glow sticks: A lot of young children are exposed to the liquid inside glow sticks around Halloween. Children sometimes bite the glow stick and the liquid squirts into the child's mouth. While the liquid tastes awful, it will not poison a child. Rinse the bitter taste away by having your child rinse their mouth with water. In every case, we recommend calling the Poison Center at 1-800-222-1222 for free, expert advice. 
Candy and treats: It's very unlikely that treats are tampered with, but to ease your concerns, follow these steps: (1) Go with your children to collect their treats, (2) Accept home baked goods only from people you know and trust, and (3) Inspect the treats yourself before letting children help themsleves. Look for wrappes that are torn, punctured, or discolored. Inspect the candy inside to be sure that it is intact. 
Chocolate: Remember that chocolate is toxic to dogs! Keep all Halloween candy out of reach and sight of your furry friends. 
Hallowen makeup: Stay with the tried-and-true when it comes to makeup for costumes. Anything else can cause skin rashes or irritation. Decorative contact lenses may not meet professional standards and could injure the eyes. Use cosmetics that are intended for the face. Don't try homemade concoctions. 
As always, save the Poison Help number for fast, free, expert advice anytime and anywhere! Call 1-800-222-1222 to speak to a poison expert.