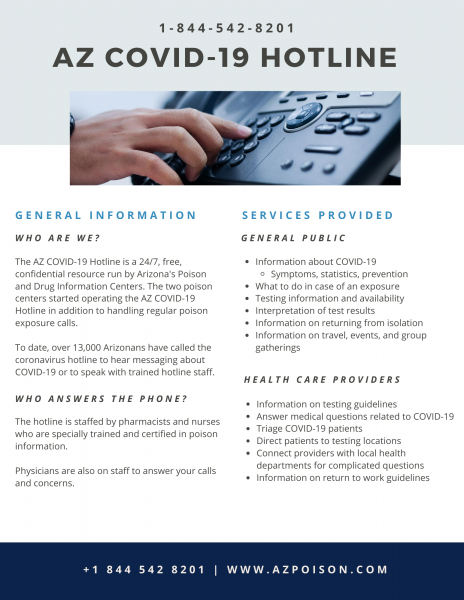 Who are we?
The AZ COVID-19 Hotline is a 24/7, free, confidential resource run by Arizona's Poison and Drug Information Centers. The two poison centers started operating the AZ COVID-19 Hotline in addition to handling regular poison exposure calls. To date, over 13,000 Arizonans have called the coronavirus hotline to hear messaging about COVID-19 or speak with trained hotline staff.
Who answers the phone?
The hotline is staffed by pharmacists and nurses who are specially trained and certified in poison information. Physicians are also on staff to answer your calls and concerns.
General Public Services:
Information about COVID-19, including symptoms, statistics, and prevention
What do in case of an exposure
Testing information and availability
Interpretation of test results
Information on returning from isolation
Information on travel, events, and group gatherings
Healthcare Provider Services:
Information on testing guidelines
Answer medical questions related to COVID-19
Triage COVID-19 patients
Direct patients to testing locations
Connect providers with local health departments for complicated questions
Information on return to work guidelines