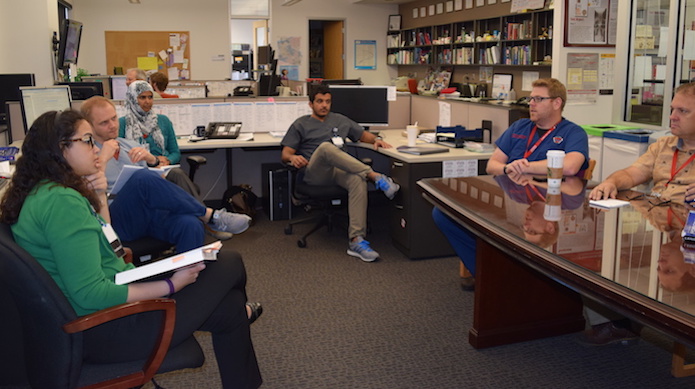 The Arizona Poison and Drug Information Center provides information to healthcare professionals and the public about exposures to – you guessed it – poison and drugs. Did you know that the center also trains students and professionals in many fields of health care? The center is home to pharmacy residents, medical residents, fourth-year PharmD students, medical students, medical and pharmacy fellows and others who learn to apply their professional expertise in the field of toxicology.
"The Arizona Poison and Drug Information Center is an incredibly unique interprofessional training site," says Keith Boesen, director of the center. "Nowhere else can a pharmacist and a physician work so closely as a team. Toxicology is not taught in many professional programs and the only place to learn clinical toxicology is in a poison center."
There are a total of 68 rotators and fellows at the Arizona Poison and Drug Information Center for the 2015-2016 year, plus a handful of volunteers and interns. Rotators are people who train at the center for two, four or six weeks; fellows take part in a two-year program.
The various types of professionals training at APDIC in the 2015-2016 academic year are listed below. For the 2016-2017 year, the makeup of residents is expected to be roughly the same. It is possible that other schools could send rotators to APDIC in the future.
Rotators

Medical residents

19 from Banner - University Medical Center Tucson
8 from Banner - University Medical Center South
8 from the Carl R. Darnell Army Medical Center

Pharmacy residents

11 from Banner - University Medical Center Tucson, Banner - University Medical Center South, the Southern Arizona VA Health Care System and Northwest Medical Center 

Fourth-year PharmD students
International rotators

Fellows

Second-year fellows
First-year fellows

1 in medicine 
1 in pharmacy
1 international in medicine

Volunteers
Interns

3 in public health
9 in pharmacy (employed)