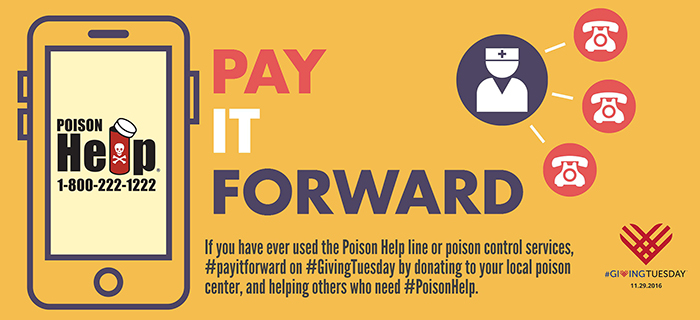 Since 2012 the Tuesday following Thanksgiving has been known as #GivingTuesday, a day that "harnesses the potential of social media and the generosity of people around the world to bring about real change in their communities."  The Arizona Poison and Drug Information Center encourages people to support the lifesaving work of the center through monetary donations on Tuesday, November 29, 2016.
The Arizona Poison and Drug Information Center receives approximately 40,000 calls each year from the public, law enforcement, schools, and healthcare providers. Operating 24 hours a day, seven days a week, year-round, serving 14 counties in Arizona, and offering help to callers in 150 different languages, our poison center experts stand ready to answer questions and help treat people of all ages who have been exposed to poisons, at no cost to the public or healthcare system. Poison centers also play a critical role in the public health system, acting as the only near real-time surveillance system for poisonings and public health emergencies across the country.
The Arizona Poison and Drug Information Center is funded via a "patchwork" mechanism. The center relies on multiple sources of funding to stay open, including some local, state, and federal funding, as well as financial donations from private citizens. Unfortunately, state and federal budget cuts continue to threaten the existence of the poison center. Data collected in Arizona shows that our state's two centers save residents over $45.5 million every year in unnecessary medical costs.
Without continued funding, the Arizona Poison and Drug Information Center could become unstable and possibly be forced to close its doors. Therefore, we are excited to participate in the 2016 Giving Tuesday campaign and encourage those who have ever utilized the Poison Help hotline or poison control services to #PayItForward by donating to their local poison center and helping others who need poison help.
Visit the
UA Foundation webpage
to donate directly to the Arizona Poison and Drug Information Center, or call (520) 626-6165 for more information. 
For more information about Giving Tuesday, visit their
webpage
.